All internet users are familiar with TikTok and its demand as an entertainment platform. In 2021, it took a step into the world of recruitment by launching a pilot program called TikTok Resumes. It provides a new channel promoting job discovery focused on entry-level candidates.
Other top-notch brands partnered with TikTok for the launch, including Chipotle, Target, Forever 21, and more. The first round of the program ended on July 31st with numerous video resume submissions. After its initial run, the TikTok resume website has yet to become active. However, it forces us to think if this is to be the hiring process of the future? Read ahead to explore the details of TikTok resumes and how you can create one if needed.
How TikTok Resumes Work
For the moment, TikTok resumes are not considered formal job applications. But they do give job searchers a unique chance to display their skills and experiences.
To create a TikTok resume, you must have a public account on the platform. This is important, so recruiters can have access to your resume. Once that is done, you are all set to begin recording your video resume.
A critical point to remember is to avoid including any personal information for the sake of security. We recommend not to reveal your full name, email, residential address, or contact number. When you are satisfied with your recorded video, post it on your account with the hashtag #TikTokResumes.
You will also need to fill an official form on the TikTok Resume jobs page for completing the entry. Choose the job listing you have applied for and hit the "Submit your TikTok resume" button. Fill all the required fields in the form that appears and click submit.
How To Create An Impressive TikTok Resume   
Shoot in a Strategic Background
A TikTok video made for purely entertainment purposes does not need a specific environment. You don't have to worry to write my resume much here, however, you must plan a professional setting for shooting your resume. Choose a quiet location without distractions or clutter visible in the space behind you. It is also ideal that the wall or room behind you has tasteful decorations or an attractive color scheme.
Good Lighting is Critical
Anyone familiar with photography or video making knows good lighting is key to capturing high-quality visuals. Your chosen shooting area must be well-lit to give the recruiters a clear view. A good source of natural lighting, bright lamps, or ring lights are the best options. Make sure the light falls on you from the front to avoid shadows.
Dress Professionally
Put on your most flattering work outfit to present a well-groomed appearance in your resume. Choose clothing that you would wear at an in-person interview or Zoom meeting. Avoid pairing together vivid colors or clashing patterns to maintain a professional aura.
Film Vertically
The TikTok app works best when you shoot videos vertically. Therefore, set your phone in that position for enhancing your resume's quality. Using the app's features to their full potential is one of the perks of creating this visual resume.
Tailor Your Resume To The Applied Role
Similar to written resumes, TikTok resumes must also be individually tailored to the job posting. Emphasize the skills, achievements, and experiences relevant to the position you are applying for. It will allow recruiters to instantly spot you as a suitable candidate for the role. It might take a bit more work if you are applying for multiple positions. But the effort will be worth your time when it reaps results.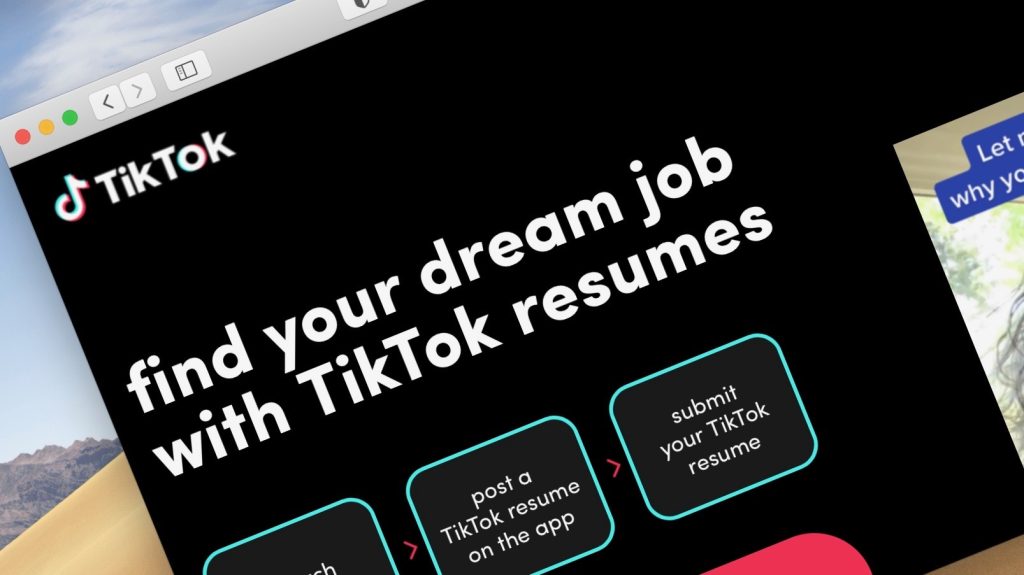 Focus On The Keywords In The Job Description
Carefully go through the job description given by the brand. Then make a list of the skills and abilities mentioned in it. Think about how you can integrate these keywords in your video. Both the speaking and visual parts of your resume can be used to demonstrate competency in those specific areas.
Work With An Outline
By planning the key points of your video before filming, you can craft a more refined and effective resume. Study the list we mentioned in the previous tip and expand each keyword with relevant points. You can turn it into a script that you can naturally deliver in the video. Your outline will help you stay focused on the elements you want to include in the resume.
Avoid Mentioning The Pay
It is wise not to mention your salary expectations in this one-way format. If you manage to impress your prospective employers, they will reach out to you. The details of payment can be discussed when you are directly conversing with their manager. The video resume should only be used to display your professional potential.
End Impactfully
Signing off on a strong note can set your video apart amidst thousands of other candidates. End it concisely and confidently. Keep the tone friendly yet formal by being grateful to your viewers for sparing you their time and attention. A thank-you note can make all the difference between acceptance and rejection in resumes.
Final Thoughts
According to TikTok's Global Head of Marketing, Nick Tran, TikTok resumes innovatively highlight the experiences and abilities of each candidate. We can see much potential in this tool as the world becomes more digital by the day. Although the pilot has not yet shown signs of turning into a fully developed platform, we can still hope. It can be a refreshing opportunity for the youth who are freshly entering the industry.
Till then, however, traditional resumes remain the primary mode of communication between candidates and recruiters. Every applicant knows the importance of a well-written resume. It promotes your abilities and leaves a favorable first impression on the employer.
Creating a document like that without professional help can be tricky, though. So, hire our top resume writing services to handle it for you. We have writers with the expertise to tailor your resume and help it meet any role's requirements. Simply submit your details and receive a perfectly designed resume to head towards your path of success.